Flowers by GaoLinLin™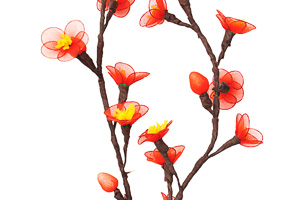 Home Decoration
Bring a fresh and lasting breath of timeless Asian perfection mixed with modern Nordic design to your home with the pinnacle of nature's own beauty in the exquisite shape of stylish and elegant flowers from GaoLinLin.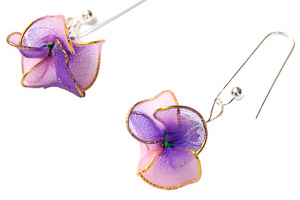 Jewelry
Let yourself be swayed by unique jewelry from GaoLinLin. Jewelry made for the demanding woman, who wishes to bloom on every occasion. The colors and the exclusive selection of materials used adds a feminine breath of classic elegance to your style.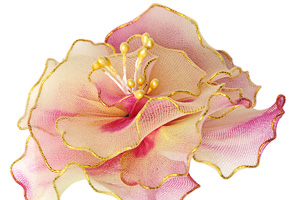 Accessories
Spice up your outfit with elegant and exclusive accessories from GaoLinLin. The timeless design and endless ways of combining these accessories enable you to dress for each and every occasion.

Handmade Quality
Finest materials
Throughout all of GaoLinLin's designs, care have been taken to select few but fitting materials which underline the flowers' texture and characteristics. Each petal is rimmed with delicate metal wire which gracefully emphasizes color and shape.
For the jewelry, dedication has been put into using allergy-friendly materials; therefore, for instance, all ear rings are made of sterling silver.
Exclusive and Unique
GaoLinLin's designs are all hand-crafted, which gives each flower a unique touch.
Her characteristic and recognizable style, together with the careful selection of consistent materials, makes it possible to combine more flowers into elaborate arrangements, or to use them as singles in any situation.